Who are we and why should you let us repair your device?
We specialize in professional repairs of electronic devices of all kinds since 10 years ago, such as: PC systems, notebooks, LCD and CRT monitors, video cards, motherboards, beamers, power supplies as well as systems of entertainment, medicinal and industrial kind.
Our customers include private consumers as well as schools, banks, hospitals, clinics, industrial forms, IT wholesalers and other service providers.
We posses professional equipment used for soldering SMD, BGA, micro BGA, CSP and FLIP CHIP technology. Repairs are carried out by experienced technicians with lots of passion for their work.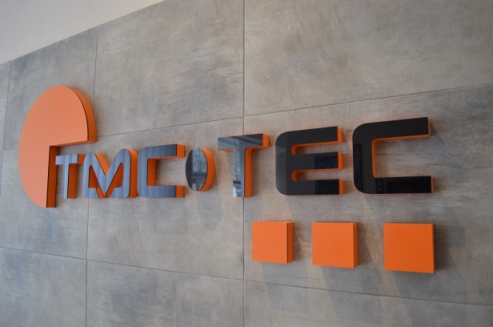 The devices that arrive at our shop to be repaired are not sorted by value, condition, availability of replacement parts or expense of repairs, but instead solely by the order in which they arrived. Every device is analyzed, repaired and subsequentially tested individually. Whether it's about replacing the inverter or complicated motherboard repairs that takes a lot of time and effort, does not matter (for a small increase in pay we naturally offer prioritized express processing or loan devices during the time the repairs take – please feel free to mention this if interested).
We offer you certified quality!
Our international IPC certificates give you the assurance that we have the knowledge
to repair and modify electronical circuits and parts professionally.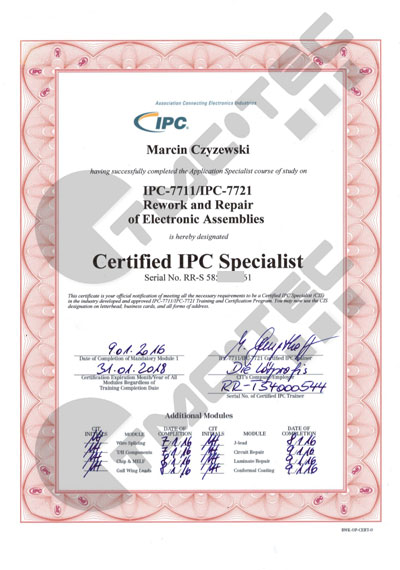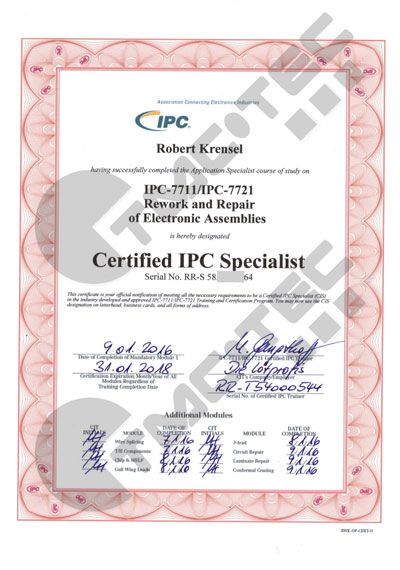 All repairs are made in accordance with the IPC standards and guidelines.
Don't look for just any service provider, but instead for genuine professionals!
Our highest priority is to help our customers.
Our success rate for repairs stands at a proud 95% (Which of course is influenced by the availability of replacement parts).
Every year we invest in new machines, test and measurement tools as well as furthering our education and courses for our technicians, in order to continually maintain and improve the quality of our services.
What sets us apart from many of our rivals is, before all else, our professionalism, the contact to our customers, the free error analysis, a short processing time, fair prices and the ideal connection to traffic of our store at Innsbrucker Platz in Berlin.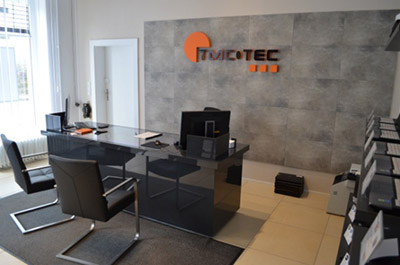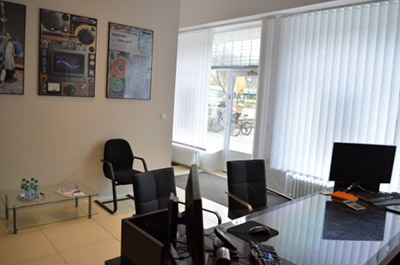 Perhaps you already did some research and while searching, stumbled upon a favorable service provider, who offers time consuming and complex repairs on PCBs in only a couple of hours of work with unbelievable prices to boot.
However, ask yourself, whether you are really willing to save a couple of Euros in repairs and hand your expensive device over to one of those "rip offs", who more often than not have neither the technical know-how, nor the technical equipment required to carry out professional repairs on PCB basis.
We, however, guarantee a professional execution of all our repair services on the highest level.
We are here for you and are looking forward to a pleasant cooperation.
Your repair team of TMC-TEC repair services.