Professional repair of graphics chips and video cards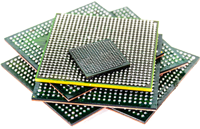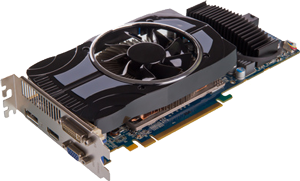 We at TMC-Tec have been dealing with the professional repair of graphics chips and video cards from laptops, PCs, all-in-one devices and industrial computers for many years.

Due to the advanced age of devices, thermal malfunctions on the graphical unit do not fall under the manufacturer's warranty.

Any and all models from different brands will be examined and repaired by trained technicians.

All shortcomings will be set right with greatest care and attention. Repairs are carried out using professional tools for soldering SMD, BGA, microBGA, CSP, FLIP-CHIP.

A high end diagnosis using professional gauges built by a German-Austrian manufacturer will be performed before as well as after the repair works.
Examining BGA chipsets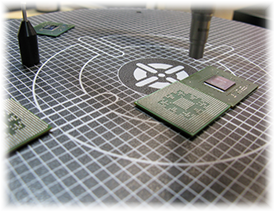 Defect graphics chip before repairs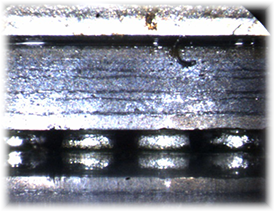 Refurbished graphics chip after repairs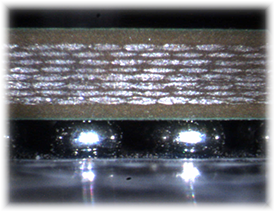 Our offer includes the following repairs
✓ Replacement of individual controlling components
✓ Repair and replacement of thermostats
✓ Replacement of components for power supply, PFC
✓ Programming and replacement of BIOS components
✓ Replacement of most possible power supplies and converters
✓ Replacement of DC sockets, DVI, HDMI, D-SUB, Displayport sockets
✓ Regeneration and refurbishment of conductor tracks
✓ Modification and regeneration of damaged components
✓ Reballing of chipsets such as Northbridge, Southbridge, graphics chip, GPU and video memory
✓ Insertion of new SMD & BGA components
✓ Repair and replacement of analog / digital converters
✓ Repair and replacement of heatsinks
✓ Insertion of new interfaces
Preparing BGA reballing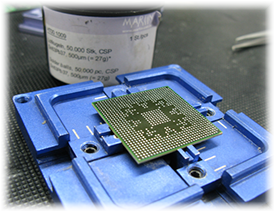 Newly equipped BGA graphics chip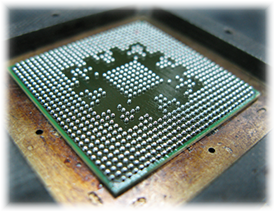 Insertion of new graphics chip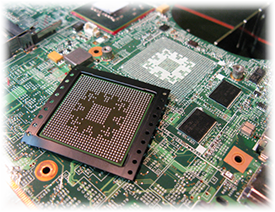 Most common error symptoms
✓ Image errors such as colorful streaks, boxes or spots
✓ Video card does not display image if plugged into an external monitor
✓ Operating system does not react fluently using high resolutions
✓ Video drivers cannot be installed
✓ Device crashes while running
✓ BSOD while booting or while starting the system
✓ Interfaces such as TV, video, HDMI, VGA or DVI do not function properly
✓ Video card or device becomes unusually hot
✓ Signal tones and warning tones ring out while turning on the device
Possible causes and damages
✓ Malfunctioning or damaged graphics chip or video memory
✓ Faulty communication between video memory and graphics chip
✓ Cracks in the soldered points between the BGA chipsets
✓ Mechanical damages in the shape of ripped off components
✓ The heatsink or fan is damaged or covered in dust
✓ Faulty power supply to the video card
✓ Damaged BIOS by installing the wrong update
✓ Malfunctioning analog/digital converter
✓ Malfunctioning interfaces or sockets
We managed to repair or replace the following chipsets and video cards successfully

G86-771-A2
G86-770-A2
G86-731-A2
G86-730-A2
G86-631-A2
G86-635-A2
G86-703-A2
G86-750-A2
G86-604-A2
G86-751-A2
G86-920-A2
G84-625-A2
G84-950-A2
G84-750-A2
G84-600-A2
G84-602-A2
G84-603-A2
G84-400-A2
G84-53-A2

G84-975-A2
G84-303-A2
G84-735-A2
G84-710-A2
G84-751-A2
G92-720-A2
G92-751-A2
G92-750-A2
MCP89MZ-A2
MCP67D-A3
MCP77MV-A2
MCP77MH-A2
MCP79D-B2
MCP79MXD-B2
MCP89MZ-A3
MCP79MVL-B2
MCP79MXT-B3
MCP67MV-A2
MCP67M-A2
MCP67MD-A2
GO7600-T-N-A2
GO7600-N-B1
GO7400-B-N-A3
GO7300-B-N-A3
GO6800-B1
GO5600
GO5200
GO7950GTXH
GO6200
GO7800-GTX
GO7700-H-N
G6150-N-A2
G6100-N-A2
SPP100-N-A2
GO7900-GTXHN
GO7900-GSHN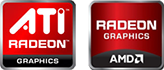 215-0735075
215-0674042
215-0752007
215-0674034
215-0725013
215-0674020
215-0674028
215-0708017
215-0725018
215-0725016
215-0708003
215-0674030
216-0729042
216-0707011
216-0707001
216-0774207
216-0774007
216-0810005
216-0683013
216-0774009
216-0752001
216-0752003
216-0729051
216-0728014
216-0674026
216-0749001
216-0810001
216-0774008
216-0774211
216-0728020
216-0732019
216-0809024
216-0707007
216-0774191
216-0833002
216-0809000
216-0833000
216-0707009
216-0707020
216-0774093
216-0697014
216CPIAKA13F
216PLAKB26FG
216PMAKA13FG
216XJBKA15FG
216PVAVA12FG
216PDAGA23F
216RMAKA14FG
216PQAKA13FG
ATI X600
ATI X700
ATI X1300
ATI X1400
ATI X1600
ATI M74-M


Quadro 6000
FX4800
FirePro V9800
AMD W9000
Tesla C2075
Quadro K5000
K4000
HD 7990
GeForce GT630
GTX 690
FX5800
GO9800M GTX
HD 6650M
8800 GT
Radeon X1900
HD 2600 XT
8600M GT
GO 8800M
GO 8700M
ATI X1800
FX1700 & FX1500
HD 4870 X2
ATI V5600
Radeon 9600 Pro
8400M G
Fire GL V7350
Quadro K4000
ATI RG220
Quadro 2000D
Nvidia NVS 510
AMD V5900
ATI HD7950
HD 5870
MSI R7970