Professional notebook cleaning and maintenance
Notebooks can often be affected by contamination by every day usage and constantly changing loactions. However, one thing often neglected during cleaning is the entire inside of the device. One of the biggest dangers is the insufficient heat dissipation. Caused by the sedimentation of dust or dirt on the heat dissipating components such as on heatsinks or fans, many of the components requiring cooling (the graphics chip, for example) can not be provided with the fresh air they need.
The consequence:
Overheating, errors, crashes and in the worst case, permanent malfunctions.
.
Don't let it come to that!
only 39,00 €
(incl. new thermal paste and thermal pads)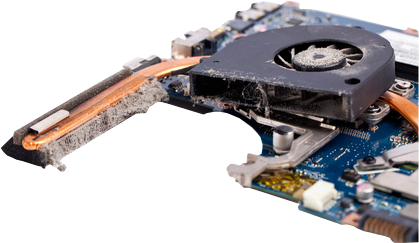 It has been determined again and again that critical damages in notebooks and mainboards are caused by missing cleaning and faulty handling. In order to prevent these kinds of notebook malfunctions a professional cleaning and maintenance is required at least once every year.
Our detailed offer for cleaning and maintenance
Our offer includes a professional cleaning of your notebook, mainboard or desktop PC.
The following procedures are carried out:
✓ Cleaning the complete cooling system, including fans
✓ Replacement of thermal paste and thermal pads
✓ Inspection of the connectivity of all slots and connections
✓ Laser cleaning of the optical drives (CD, DVD, Bluray)
✓ Cleaning of the entire chassis (hand pad, keyboard, display)