Professional repairs of your notebook, laptop or netbook

Is your notebook malfunctioning or does it show no reaction?
We will repair your notebook or laptop at low costs. No matter whether it's about damage from falling, short circuits, hardware error or fluid damages!
Of course we stand by with continual support and advice, inform you of every step of our process of work and gladly explain individual processes.
Good quality needs the proper tools and experience!
We modeled our services for you after this short principle. Because it is assured, not everyone can provide quality! With our professional equipment, our abilities and the certain something called Know-How we are able to offer you high quality and skilled repair, which are miles above cheap repairs in terms of performance, longevity and quality!
Comfortable pick-up service possible to all of Berlin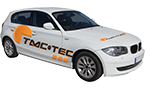 If you live in Berlin, you can have your malfunctioning device picked up quickly and comfortably by our local courier services.
Pick up and delivery from 19.90€
BGA-Reballing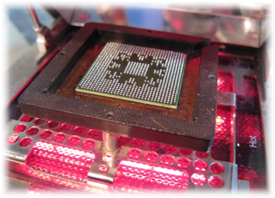 Replacement of malfunctioning gpu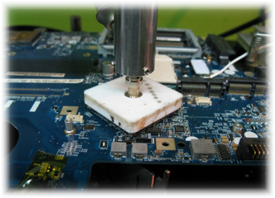 Repairs in case of fluid damages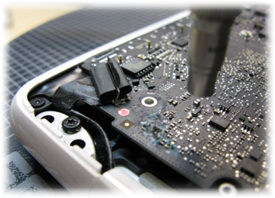 Why should you decide for a repair from TMC-TEC?
A lot of repair workshops in Germany limit themselves to very simple diagnosises such as: "The motherboard has a malfunction.", "The display has a malfunction.", "The power supply has a malfunction." and so on. More often than not, repairs are not even offered. Instead it's: "…you'll need a new one!"
We at TMC-TEC always take the time to determine the exact cause of error, with special focus on individual components.
And the best thing is:
The error analysis is completely free
(not including costs for delivery or pick up – but of course you can bring and collect your device yourself)!
After analysis, we tell you the exact costs for the repair (including required parts) and you decide whether you want us to continue with repairs or not. Should you decide against repairs, or should a repair (against all expectations) not be possible, there will of course be no costs. That means: There is absolutely no risk for you when you send your device to us for analysis and repairs.
All of our repairs are carried out with utmost care and attention. The repairs are carried out using professional tools from a German-Austrian manufacturer specializing in soldering equipment SMD, BGA, µBGA, CSP, FLIP CHIP. The repairs are carried out by experienced technicians with great passion for their work.
This is why we can proudly proclaim:
Our provided services are on the highest technical level!
Fast replacement of interfaces

eg: USB, HDMI,
Audio, VGA
or DC jack

starting at 39,00€

Express notebook display exchange

possibly
within
24 hours

starting at 79,00€

Free error analysis

You receive an error analysis and a non-binding costs estimate 2-3 days after delivery

0,00€ (possible costs for shipping)
Professional notebook cleaning

Prevent
high repair
costs!



39,00€ (including new thermal paste)
The notebooks from following manufacturers can, amongst other things, be repaired
Acer
Asus
Actina
Dell
Fujitsu–Siemens
Nokia
Sony
MSI
Compaq
Panasonic
Belinea
Benq
Maxdata
Medion
Samsung
LG
HP
Apple
Toshiba
Clevo
NEC
Packard Bell
IBM
Lenovo
Gateway
digital
Canon
Gericom
IPC
Following repaires can be carried out (amongst other things)
✓ Exchange of individual connectors such as LPT, COM, USB, etc.
✓ Exchange of individual CPU components (CPU socket)
✓ Exchange and repair of video RAM
✓ Repair of charging technology, PFC, controlling, temperature regulator
✓ Exchange of all possible converters
✓ Repair of the onboard video card, Wifi or sound card
✓ Exchange of keyboard controller, Firewire, Multicontroller
✓ Exchange of CPU and digital-analog converter
✓ Exchange of neon tubing (CCLF tubing), LED-controlling, display repair
✓ Exchange of display in case of a non successful repair
✓ Exchange of optical drives such as CD-ROM, DVD, Bluray
✓ Cleaning the keyboard using a special process
✓ Exchange and repair of individual recepticle
✓ Exchange of inverter and inverter controlling
✓ BGA repair and exchange, soldering, resoldering, Southbridge, Northbridge
Most common errors and malfunctions we help with
✓ No image on the display after booting
✓ Notebook does not react – battery not charging
✓ Notebook cannot be turned on – battery is charging
✓ Overheating – Notebook becomes unusually hot
✓ Colorful boxes, spots or strange symbols are displayed
✓ Display is displayed with double or triple implementation
✓ Horizontal or vertical, colorful stripes on the display
✓ Logo and other images appear blurry or in very bad quality
✓ Battery is not charging
✓ Network connection not possible, LAN-connection is not being recognized
✓ Wifi network not recognized – Wifi shows no function
✓ Keyboard shows no function – some keys don't function properly
✓ USB interfaces do not react – damaged USB socket
✓ Hard drive (HDD) is not being recognized
✓ Optical drives such as CD-ROM, DVD or Bluray are not being recognized
✓ Fluid damages or impact damages
Your data is safe with us!
During the entire time your device is repaired, all data on the hard drive are treated confidentially. No erasing or formatting follows. At no point is the customer's data viewed. The customers of course has the possibility to give us this in writing (when, for example, a data rescue is to be carried out).