Product Description
If you want to bypass a costly replacement of your motherboard, look no further. Save up to 80% of repair costs.
Whether the damages are caused by falling, short circuiting, hardware malfunction or fluids does not matter!
All malfunctions are treated with the utmost care and attention to detail. All repairs are carried out using professional tools for soldering SMD, BGA, micro BGA, CSP, FLIP-CHIP.
Order of events during repairs
You choose the desired repair service through our online shop.

(Important: If you first want a free error analysis including estimated costs for repairs, you can ship us your device for examination without purchasing a repair in our online shop. The sequence is the same, with the only exception being that first of all, you receive an estimation of the costs and we cannot start the repairs on your device.)


You fill in the Repair assignment to the best of your ability and send us the malfunctioning device.
(Please include a copy of the repair assignment in the parcel and pay attention to the corners of your device.)


You receive a confirmation of the delivery within 24 hours of delivery, either via phone or e-mail.


Next, we carry out a cost free error analysis.


We inform you of the results of the error analysis via phone or e-mail.


If the required repairs match the desired repairs specified in the repair assignment, repairs start immediately. Should the required repairs differ from the specified one, we interrupt the process and inform you of the new costs for the different repairs. Afterwards, you can decide, whether you want us to carry out the required repairs and verify your decision with us via e-mail or in writing (If you decide against the repairs, we ship the unrepaired device back to you or you pick it up from our store. Except for possible costs for shipping the device back to you, there are no additional costs for you). This means: There is not risk of unexpected costs for you.


We carry out the repairs (Repairs take between 3 – 5 workdays).


After the repairs and the subsequent tests, the device is packed safely and prepared for shipping.


You are informed, and receive a bill with denoted sales tax to your name.


You make the required payment.


After receiving payment, we ship the repaired device back to you, or you pick it up from our store.
Important note
If the actual error is not caused by a malfunctioning motherboard, but instead by the display, RAM, hard drive or a connection cable, the process will be interrupted. You receive a new costs estimate and still have free choice over whether you want repairs to be carried out or not.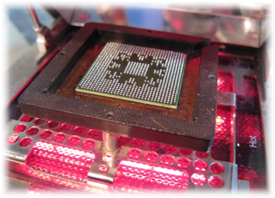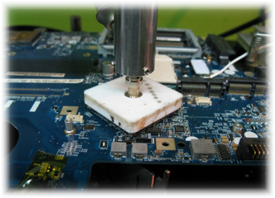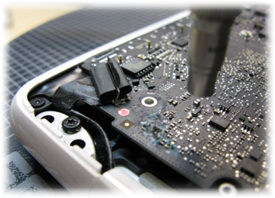 Most common error symptoms
Display errors in the form of colorful stripes, boxes or spots
The video card does not show any kind of image on external monitors
No image after booting, fan and HDD are being addressed
Operating system cannot be operated properly if a high resolution is displayed
Video drivers cannot be installed
Device shuts down unexpectedly while running
Bluescreen during a system start
Interfaces such as TV, Video, HDMI, VGA or DVI do not work
Video card or device get exceptionally hot
Signal tones or warning tones are heard during the boot sequence of the desktop or notebook
Possible causes and malfunctions
The graphics chip is damaged or malfunctioning
Faulty communication between individual components
Tears in the soldering points on BGA chipsets
Mechanical damages in the form of torn components
Fan/Cooling unit might be damaged or covered in dust
Faulty power supply to the video card
Damaged BIOS caused by a wrong update
The connection of low quality batteries or power supplies
Malfunctioning interfaces or sockets
Advantages for choosing TMC-TEC repair services
✓ Free of charge error analysis
✓ Capable advice
✓ Fast processing
✓ Professional equipment
✓ Experienced technicians
✓ Low prices
✓ Payment only upon successful repairs